When it comes to executive travel, finding the right chauffeur service is essential. A reliable and professional executive chauffeur service can make all the difference in ensuring a seamless and luxurious journey. Whether you're traveling for business meetings, corporate events, or special occasions, having a trusted chauffeur by your side offers convenience, comfort, and a touch of sophistication.
In this fast-paced world, where time is of the essence, finding the right executive chauffeur service becomes even more crucial. Join us as we explore the key factors to consider when searching for the perfect executive chauffeur service that aligns with your needs and enhances your travel experience. From the expertise of the executive chauffeurs in London to the quality of the fleet, we'll guide you in making an informed decision to ensure your executive travel is nothing short of exceptional.
Looking to hire an executive chauffeur service in London, let's dive into the crucial task of finding the right one. Here are some key points to consider:
Research and Compare
Take your time and do some thorough research. Don't settle for the first chauffeur service you come across. Look into different chauffeur companies, and compare their services, look into the prices, and customer reviews. After all, you wouldn't want to end up in a car with a chauffeur who thinks they're auditioning for Fast and Furious!
Ask for Recommendations
Nothing beats good old word-of-mouth. Reach out to friends, colleagues, or even your second cousin's cousin who once traveled to London. Ask for their recommendations and experiences with chauffeur services. Just keep in mind that everyone's taste is different, so take their feedback with a pinch of salt…and maybe some hot fries too.
Check for Licenses and Insurance
You don't want to be struck into legalities? Make sure the chauffeur service you choose is licensed and insured. This way, you can have peace of mind knowing that they've got all their legal ducks in a row. The only thing you want soaring during your ride is your executive status, not any worries about legal complications.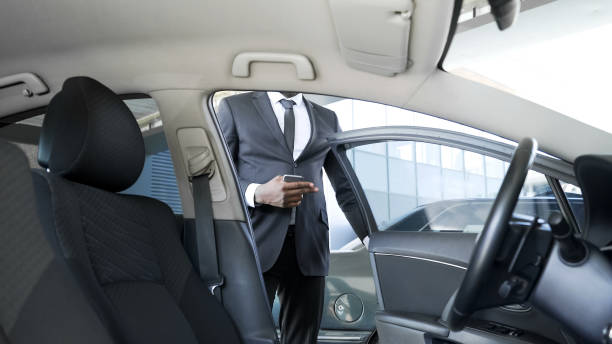 Read the Terms and Policies
Yes, I know it's tedious, but trust me, it's worth it. Before you sign any contracts, make sure you read the terms and policies. Pay attention to cancellation policies, extra charges, and any other terms and conditions. You don't want to be surprised with a bill that could rival the national debt, do you? I didn't think so.
Finding the right executive chauffeur service in London isn't rocket science, but it does require some research. By researching and comparing, asking for recommendations, checking for licenses and insurance, and reading the fine print, you'll be well on your way to cruising through London in style, comfort, and safety.
Things To Consider While Choosing an Executive Car Hire in London
There are several things to consider while choosing an executive car hire in London. These points will help you choose the right executive car hire in London and make your journey hassle-free
First, make sure to consider the reputation and reviews of the company. You don't want to end up with a chauffeur who drives like a maniac, right?

Second, check out the fleet and vehicle options they offer. Because let's be honest, nobody wants to ride in a beat-up old car when they're trying to make a good impression.

Third, ensure that the chauffeur has proper knowledge of the city. You don't want them getting lost and making you late for that important meeting.

Fourth, flexibility and availability are key. Make sure they can accommodate your schedule and be there when you need them.

Last but not least, pricing and cost. Because let's face it, if it's going to cost you very expensive, you might as well just take a taxi.
And that's all. Remember these key points when you're on the hunt for an executive car hire in London.